Partners
Through participating surety agencies, the Bid Express® service is able to offer online bid bond verification. This service ensures that bidding can truly be paperless.
When preparing a bid, a bidder accesses a bond verification code and includes the code in his/her bid. The code electronically verifies the existence of the bid bond and can satisfy the agency bond requirement. Bidders should check with the agency they are bidding with on its bid bond policies.
To learn more about electronic bid bond validation through the Bid Express service, please visit our Frequently Asked Questions (FAQ) page.
The Bid Express service currently has agreements in place with the following surety agencies:
Surety2000

Surety2000 is an online system designed as an e-commerce clearinghouse for the surety industry. The surety professional now has a leading-edge tool to provide a reliable, timely and accurate surety document to the principal and owner/obligee.
SuretyWave (formerly InsureVision Technologies)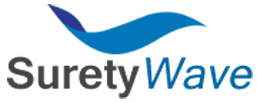 InSure Vision Technologies (IVT), including SurePath
Network and Sure Form Bond Library, was acquired
by SuretyWave, LLC. SurePath Network is the industry
leading web based surety bond processing system.
SuretyWave is integrating its proprietary digital
business-architected platform with SurePath extending it
and the SureForm Bond Library into the digital world with
new technologies and digitizing the ebonding process.